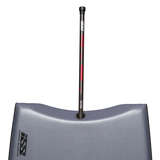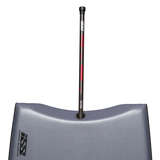 ISS STIFF FLEX CARBONFIBRE
Size
MEDIUM - 39.5" / 41.25"
LARGE - 41.5" / 43.25"
ISS STIFFFLEX CarbonFibre / 3K Carbonfibre 100% |
100% areospace grade 3K Carbonfibre biaxial weave DRC integration to create a lightweight stringer with incredible high tensile strength. Precision calibrated for warm water temps and for riders with a need for speed.
ISS® – Interchangeable Stringer System® revolutionises high performance bodyboarding by giving the rider the freedom to fine tune the flex of their board for optimum performance in all wave and water conditions. Using patented Load & Lock™ technology, ISS stringers are inserted and removed with the turn of a key. The ISS range of stringers utilise the latest advancements in composite construction and manufacturing technology to create a quiver of shafts that covers the full spectrum of a riders flex requirement.
---
PLEASE UNDERSTAND THE FOLLOWING BEFORE USING YOUR ISS STRINGER:
Slowly insert and remove stringers. The internal components have a tight tolerance so as to minimise rattling and this causes some resistance when you insert and remove the stringers.
The Soft Flex stringers have a slightly thicker OD (outside diameter) than the other stringers 16.45mm OD vs 16.15mm OD. Therefore you will feel a bit more resistance when inserting and removing the Soft Flex stringers.
The ISS Key will flex/ bend when full lock is achieved.
Do not store boards with ISS Stringers locked inside.
A small amount of water can enter the ISS chamber. This doesn't effect the board as its contained within the chamber and wont migrate to the core. Just remove the stringers after each surf to dry the chamber and the stringer.
Plug the board minimum 2"/ 5cm from the vertical centreline. Do not plug the board along the vertical centreline as this may result in puncturing the internal sleeve and permanently damaging the system.
Be sure to buy the correct sized stringer for your board:
39.5" – 41.25" = Medium ISS stringer
41.5 – 43.25" = Large ISS stringer