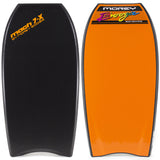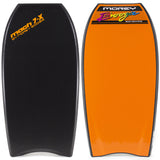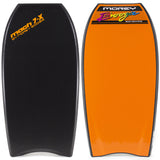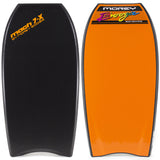 MOREY MACH 7-X PP
BODYBOARD SIZE
41.5"
42"
42.5"
43"
Board Colour
TANGERINE DECK | ORANGE SLICK
BLACK DECK | ORANGE SLICK
The Mach 7X is the original performance bodyboard. This iconic board is where it all started for generations of wave riders. Many have copied this but there is only one true Mach 7XMorey have re-created the Mach 7-X PP for those who want a classic look performance board, without being over the top. Made with premium 1.9lb polypro core, surlyn slick & mesh. The Mach 7-X mixes the best of old school look & new school tech. Made for those who want a high performance board with all the best materials that will excel in all conditions.  
The Mach 7-X evokes the stoke. Bring it back with one of these.
BOARD TECH
Core - 1.9lbs Kinetic Polypro Core 
Stringer - 1 x CFT Stringer
Rails - 55/45 Double Rails
Channels - Graduated Channels
Slick - Surlyn Slick Skin
Deck - Wavecushion Air 8lb PE Deck
Tail - Crescent Tail
Additional Features - Tail Piece, Slick Mesh, XFL Nose and Tail Bumper, CNC Shaped, Buzz Tech Lamination