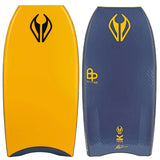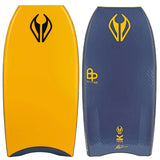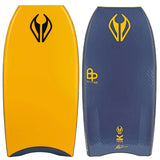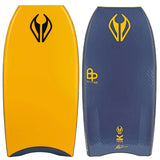 NMD PLAYER KINETIC
BODYBOARD SIZE
41"
41.5"
42"
42.5"
43"
44"
Colour
BLACK DECK | FLURO GREEN SLICK
TANGERINE DECK | METALLIC BLUE SLICK
Colour
BLACK DECK | FLURO GREEN SLICK
The Ben Player PP model is the top end base model to his range
BOARD TECH
Core - Kinetic 1.9lb PP Polypropylene 
Stringer - 1x CFT Stringer
Rails - 55/45 Double Rails
Channels - AKU Parallel Channels 
Slick - Dupont Surlyn Slick Skin
Deck - Wavecushion Air 8lb PE Deck With Q12 Backing Foam
Tail - Crescent Tail
Additional Features - React Mesh, Tail Piece ,CNC Shaped, XFL Armour, Nose and Tail Guards, Bull Grip Nose Bulbs, Buzz Tech Lamination.
BOARD TECHNOLOGY INDEX
Kinetic PP - Constructed from premium grade 1.9lb and 1.5lb density Polypropylene Kinetic Core delivers amazing projectin and response as high pressure cell-fusion created during the blanks manufacturing process.Kinetic Core ia a warm water core available in various reinforcements configurations, each tuned-in for specific wave conditions.
CFT Stringer - High grade lightweight filamentwound composite fibre tube for increased board strength and spring like recoil.
React Mesh - Diamond shaped mesh weave fused between the boards core and slick bottom skin for the enhanced stiffness and recoil
Surlyn Slick - Dupont Surlyn Slick is the finest grade bottom skin for a bodyboard because of its rubber like properties, superior recoil and resistance to scratching and wear and tear , hence the reason why Surlyn is the universal skin used for Golf Balls.
Wavecushion 8lb NXLPE - 8pcf non-crosslink Polyethylene outer skins. The premier skin for high performance bodyboarding.
Q12 - Higher density crosslinked PP Foam backing layer delivers more resilient nose and tail seam fusion and increase board strength.
AKU Parallel Channels - run parallel to the rails & are slightly wider than most channel's. they are usually shaped by a CNC/ AKU Shaper. These channel's are lightly graduated to capture more water & direct it out through the tail of the board resulting in more speed, hold in the wave face & release when you need it.
XFL Armour - Heat laminated Crosslink foam forms the inner rails and nose tail armour encapsulating the full inner perimeter of the board for premium seam strength and impact protection.
CNC Precision Shaping - CAD designed templates precision cut with CNC shaping machines for superior accuracy and consistency.
Bull Grips - Die-cut foam bulbs are positioned at each corner of the nose to enhanced finger grip and with a curved contour for an even better handle.
Buzz Tech Lamination - Buzz Tech process hot air lamination system Thermo-fuses the outer skins to the core with calibrated pre and post set rocker tension for optimum board recoil and projection.